Report on Impedance/pH Reflux
Testing Training Seminar
Wingate Institute of Neurogastroenterology,
London, UK
09-25-2017
We are thrilled to report another successful clinical training seminar was concluded on September 21st 2017 at Wingate Institute of Neuro-gastroenterology Center, London, UK, an event host in association with our distributing partner Synmed.
More than 40 gastroenterology doctor and specialists from more than 20 hospitals around the world participated in this training. Renowned GERD expert Professor Daniel Sifrim, Dr. Philip Woodland and their associates presented the lectures and the hands-on session.
Professor Daniel Sifrim, Director of Gastrointestinal Physiology, Wingate Institute of Neuro-gastroenterology gave a warm welcome to all participants. He then introduced the outline of this course, latest development in GERD diagnosis, the importance of Impedance monitoring and its practice. OMOM Reflux Monitoring System was demonstrated for the duration of this course. The facility showed trainees how to analyze and edit data, conducting report as well as typical and atypical case study.
Trainees around the globe participated in good spirit. Through lecturing and practice, everyone made substantial improvement in their understanding of GERD, the application of reflux monitoring and how to make accurate reading and diagnosis.
​
During the course, JINSHAN is proud to showcased as the leading solution provider in the industry. The catheter-based pH-Impedance monitoring system and the wireless pH capsule monitoring system is grabbing everyone's attention due to its ergonomic design, comfortable material and powerful analysis software. Trainees not only learned a lot in the progress but also eager to try after returning to work.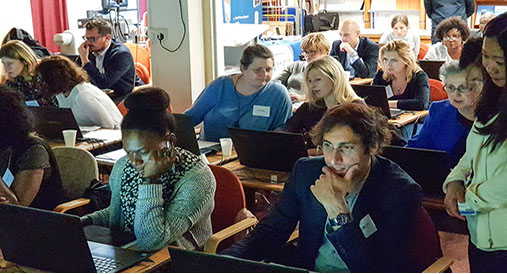 JINSHAN is one of the leading companies in the Reflux Monitoring industry. We are honored to be working with Professor Daniel Sifrim and his team in pursuit of deepening understand of reflux and better technologies to monitor it. The inclusion of the article 'Innervation Pattern Of The Distal Mucosal Squamous Epithelium May Underlie Hyposensitivity To Acid Reflux In Patients With Barrett's Esophagus' to the DDW 2017 and Gastroenterology is the best demonstration of that good collaboration.
For more information on Reflux Monitoring solutions, visit following links:
pH-Impedance Monitoring / Wireless pH Capsule Monitoring