Gynovision®️ receives FDA 510(k) Clearance
30-04-2018
JINSHAN Science & Technology is pleased to announce Gynovision Endoscopic Hysteroscopy System received FDA 501(k) clearance.
​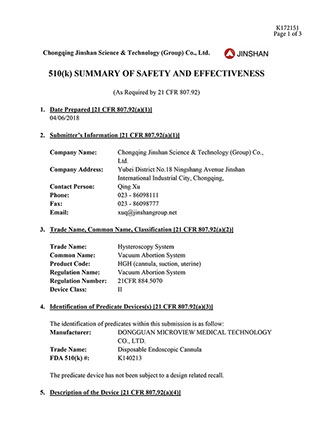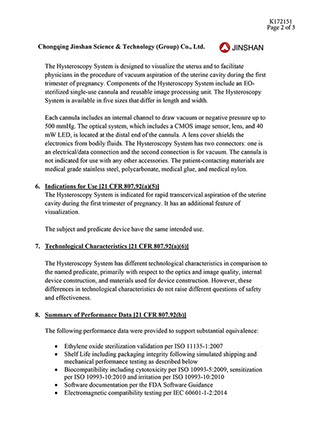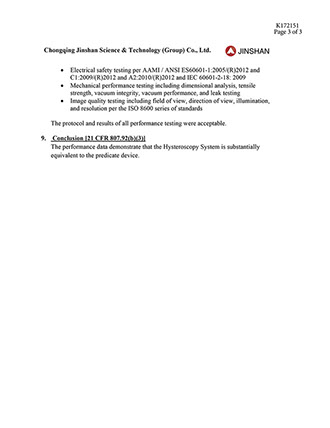 "We welcome this most exciting news," said Mr. Wang Jinshan, President of JINSHAN Science & Technology, "Gynovision is the true representation of our dedication and research of microscopic imaging technologies and our commitment to provide advanced solutions to healthcare providers with efficiency, accuracy and affordability. The FDA clearance gives us unprecedented opportunity to reach more markets and healthcare providers and in turn, help more patients through out the world."
The Gynovison platform is a breakthrough Endoscopic Hysteroscopy System which revolutionized uterus inspection and vacuum aspiration, with key features including:
Direct Visualization
Gynovision provides crystal clear images of the uterus, every minute detail is visible for the physician's inspection. Special lens made from proprietary material repels blood and stain, guarantees a clear and unobstructed view.
No distention required
Gynovision can be performed in daily clinical setting with no distention requirements, improving clinical outcome and eliminating complications commonly associated with distention
Smooth Aspiration
Made from highly durable stainless steel with large bore designed for optimized suction flow.
To learn more about Gynovison and its revolutionary designs, click here.
About JINSHAN
JINSHAN Science & Technology is leading provider of Capsule Endoscopy System, pH Monitoring Capsule and Catheter, GI endoscopes and accessories as well as other industry solutions. Our mission is through dedication in clinical excellence to help healthcare professionals give quality care.